Flowers and weddings go hand in hand, literally. There's nothing like the feeling of walking down the aisle, holding a beautiful bouquet that's been put together seamlessly- or seeing your guests gush over the foliage, textures, and colors of your floral arrangements that light up the day.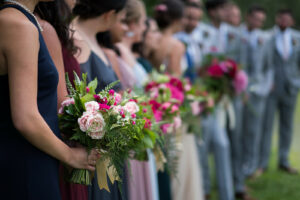 Photo by Brendan Bullock Photography
Why hire a professional floral designer?
Floral designers use their creative expertise to help bring your overall wedding design together, in a creative way that suits your exact wants and needs.
As trained professionals at Purple Orchid, we can confidently tell you that floral design really does make a statement in your wedding and that's why the floral designer needs to be chosen carefully.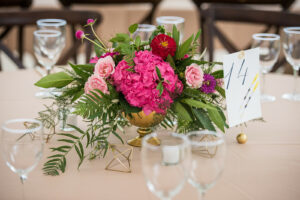 Photo by Brendan Bullock Photography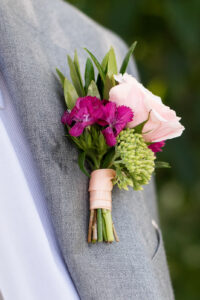 Photo by Brendan Bullock Photography
What should I spend on floral design?
When it comes to your wedding-budget, most professional planners suggest allocating 8% for decor, this includes bouquets, flower arrangements, and design. But even this percentage is dependent on the overall look, style, quantities, seasonality, location, quality of designer, types of arrangement, and so on.
At Purple Orchid, we can help you hire the right floral designer in a way that is fun, realistic, and stress free. Thus, it's key to figure out what you can afford to spend and how important florals are for you.
Check out this handy tool for crafting your wedding-flowers budget.
A Snapshot of Floral Designers We're Loving
When researching floral designers, you want to get a feel for their style and past work they've put into events. We've narrowed it down (this was so hard, as Maine has such a talent pool) to three Maine floral designers whose work our clients have loved.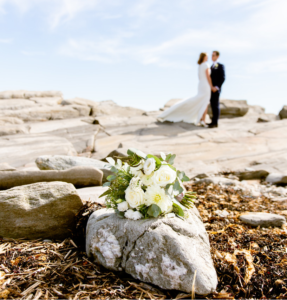 Photo by Leigh Doran of Nadra Photography
First up in the spotlight: Coco Design Company
This floral design company uses high quality local and imported flowers to create beautiful floral designs and arrangements that help turn your wedding day into a truly unique event. From ceremony floral arches to small thoughtful details, Coco Design Company has a unique expertise with Maine wedding florals.
Cost of floral design service depends on the client's needs.
If you're looking to go the sustainable route: Honeysuckle Way Flowers
This farm to floral company creates intentional floral arrangements with flowers harvested from their own gardens and nearby farms. The combination of farm and floral design can make for a perfect love affair.
Full floral design service, including setup, breakdown, and custom on-site designs, ranges from around $3,500-$8,500+. Orders will be entirely up to your event.
If you're looking for top-notch floral designs: Flora Fauna Event Design
An incredible top floral and event designer in Maine, this company lets the beauty of mother nature inspire their floral designs. They use all locally and organically grown flowers to create timeless floral designs that compliment your day.
Unique design elements like custom linens, props, and furniture complement their locally grown flowers. Floral design service starts at $5,000.