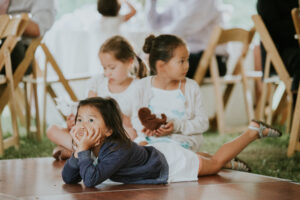 Inviting the kiddos. Yes or no?
When it comes to finalizing the guest-list, there are two options. Invite the kiddos, or don't…
One couple coos over and envisions flower girls tossing petals down the aisle and tearing up the dance floor with a toddler. Another couple thinks about cranky toddlers staying up past their bedtime or their parents needing to leave early.
Neither couple is in the wrong: there are pros and cons to including children in your wedding.
We're not here to tell you whether or not you should include children in your wedding. We're here to dish out the pros and cons of including children on your wedding day, and provide expert advice on how to keep the children entertained without losing sight of your special day.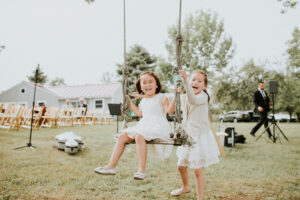 Pros
Children make for adorable, cost-free flower girls and ring bearers. Depending on the formality of your wedding, older children can act as ushers, manage the guest book, or even circulate appetizers at the reception.
Involving children in the ceremony this way allows their parents to sit back and enjoy, plus well dressed little ones make for memorable photographs.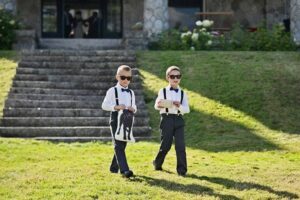 There's plenty of cute and comfortable wedding outfits for parents to choose from: formal baby suits, whimsical toddler dresses, tiny bow ties, the list goes on.
And what's better than stealing a good luck kiss from the ring-bearer or a squeeze from the flower girl to ward off any pre-ceremony jitters?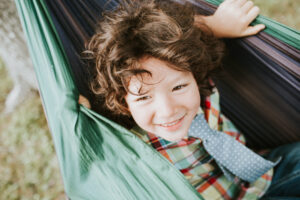 We all know that children add life to the day. The little ones will be the first to hit the dance floor, and request a second slice of cake.
You might be more inclined to include family fun activities in your reception, like corn hole or a photo booth.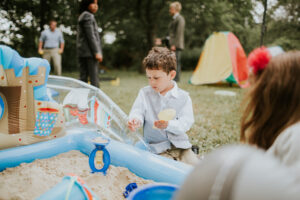 Cons
No matter what, kids will be kids, and there's nothing wrong with that. But there's also nothing wrong with avoiding meltdowns in the middle of the vows and tired temper tantrums, by just not including children in the day.
Plus, if your guest list is already larger than expected, inviting children can oftentimes double that number.
You'll have to consider the space limitations of your venue if you're planning on having a smaller ceremony and including children: you'll need space for kids-tables, kids-meals, and space for kids to be kids.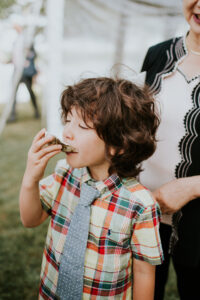 If you're including children in the wedding:
Order children's meals:
When it comes to ordering the food, you'll want to consider adding child-friendly meals to the order. Luckily, children's meals are often less expensive and still tasty.
Create children's-tables:
You could even space children aged 7 to 14 at a separate table than those under 7 years old. Even if childcare is provided, children under 7 years old aren't likely to sit still if parents are within eyesight and earshot.
Decorate the children's-table:
There's an endless list of creative ways to decorate the kids table. Make it fun for the children by decorating the centerpiece of the children's- table with quiet games, like tic-tac-toe or crossword puzzles.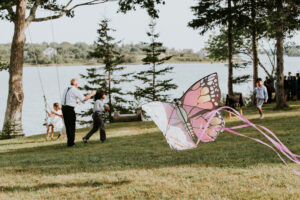 Get the children busy:
Goody bags filled with pieces of mini puzzles, crayons, chalk, coloring books, or bubble-blowing sets are a great way to keep the little ones busy during the reception.
If you're going adult-only:
Tell your guests:
Be straightforward with your guests about having an adult-only wedding. Avoid adding the words, "and family" on the invitation and your guests will understand.
Book babysitters:
We recommend that parents look into babysitter services far in advance.
SitterCity is a great resource for finding local options for in-home, part-time, full-time, daytime, and overnight sitters. You'll be able to browse babysitters profiles, ratings, and reviews from other families and secure messaging, background checks, and interviews to find the best match.
Care.com is another child-care service which allows you to secure a babysitter fast. If you're striking out with finding local babysitters for an upcoming wedding, Care.com is a great option to connect with a breath of qualified caregivers in your location and price range.
Last but not least, do not feel ashamed for not including children on your wedding day: it is after all, your day.