Weddings are a special day for many people. Of course, for the couple and their families. But also for the friends that support and cherish the couple. Weddings don't only celebrate romantic love and commitment, they also about enjoying the love between best friends. During this past wedding season, we got to work with many of the best friends who helped make wedding days so special, and we want to celebrate them!
…and are ready to jump to their friend's side.
…and save those memories for a lifetime.
We love seeing the pervasive joy between couples, families, and friends. How would you want your best friend to be involved in your wedding? We love hearing your stories and unique ideas for sharing the day with your BFF.
Special thanks to Kari Hererand Cait Bourgaultfor capturing these moments.
There are many things that tug at our heart strings during weddings, from the first moment a couple locks eyes on each other, to the parent dancing and toasts, we often find ourselves soaring with happiness for our clients. There is one thing that never fails to both make our hearts sing and make us laugh – and that's kids at weddings. You are sure to find tons of sentimental moments with kids: we've seen flower girls tossing petals, kiddos tearing up the dance floor, and future stand-up comedians putting on a show. We love it all and can't wait to share a few of our favorite kid moments from the 2018 wedding season.
Future professional wedding photographers!
What's the sweetest moment you've seen with a kid at a wedding? We want to hear your stories!
Special thanks to the lovely photographers we get to work with for capturing these shots.

Bridget and Ryan tied the knot overlooking Nubble Lighthouse in York, Maine in mid-August. Though it threatened to rain for most of the day, the stormy weather held off until nightfall and the couple, their family, and friends were able to enjoy a gorgeous outdoor ceremony followed by a tented reception.
Groom and groomsmen's personalities shining through.
Rose and gold details, accented by natural greenery, were showcased throughout.
Congratulations Bridget and Ryan!
More to come!
VENDORS:
Wedding Planner: Kristina Slocum of Purple Orchid Event Planning
Venue: Viewpoint Hotel
Photographer: Cait Bourgault Photography
Flowers: Little River Flower Farm
Rentals: Sperry Tent, Peak Events, A Family Affair, Heartwood Essentials
Cake:  Nothing Bakes Like a Parot
Makeup: Beauty Muse
Hair: Lindsay Griffen
Catering: Liberty Lane Catering
Videographer: Daniel Olivares
Band: Big City
Ceremony music: Opus Trio
This fun-loving couple made their wedding into a whole weekend affair at their lake-side venue, Kingsley Pines, on Sebago Lake. After yoga classes, fun on inflatable lake floats, food trucks, and more, the weekend culminated in a Sunday ceremony and reception. 
Following the ceremony, guests enjoyed a cocktail hour by the lake complete with a bluegrass band and a portable bar in an airstream trailer.
Guests enjoyed dinner on farm tables with views of the lake. To keep the fun going, friends and family were given scratch tickets to win money for charity.
After a round of toasts that made us both laugh and cry, guests moved into the barn for a live band and one final surprise…
A firework show on Sebago Lake kept the party going before guests danced the night away in the barn!
Congratulations Ben and Cambria!
VENDORS:
Maine Wedding Planner: Purple Orchid, Events
Venue: Kingsley Pines
Caterer: Bread and Butter
Bar Truck: Destination Catering
Photographer: Kari Herer
Ceremony Band: Muddy Marsh Ramblers
Reception Band: Groove Authority
Florist: Snell Family Farm
Fireworks: Central Maine Pyrotechnics
Lighting: Lighting Event Pros
Emily and Will got married overlooking the ocean at Wolfe's Neck Farm in late July. The couple, their family, and friends then celebrated the night away in a sailcloth tent with stunning ocean views.
Photo by Lindsay Hackney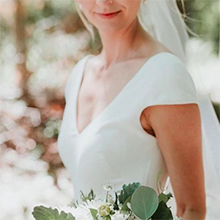 Photo by Lindsay Hackney
The couple used a Polaroid camera and scrapbook to involve guests in commemorating their day!
Congratulations Emily & Will!
More to come!
VENDORS:
Maine Wedding Planner: Purple Orchid Events
Venue: Wolfe's Neck Farm
Photographer: Lindsay Hackney
Catering: Fire & Co.
DJ: Greg Powers
Cake and Dessert: Nothing Bakes Like a Parrot
Florist: Emily Carter Floral Designs
Gelato Cart: Gorgeous Gelato
Hair & Makeup: Ferrante Salon and A New Leaf Salon
The Greatest Show!
Mid-July we had the opportunity to help Jack celebrate his Bar Mitvah at Camp Modin in the Belgrade Lakes region. From carnival rides, to arcade games, LED dance floor, Boston Circus and a variety of food trucks, all we can say is Jack's celebration was an absolute blast and we will be talking about it for a very long time!
Guests celebrated with mocktails, street corn, quesadillas, tacos, soft pretzels, a s'mores bar, and a wide variety of desserts. Additionally, three food trucks stopped by and featured delicious foods including vegetarian poutine, Greek food, and wood-fire pizza.
The Maine Tinker Studio, a stylish, portable photobooth, was available for guests to take silly pictures with a huge array of props!
Mavel tov, Jack!
VENDORS:
Event Planning:  The Purple Orchid, Event Planning
Venue: Camp Modin
Catering: Camp Modin, 168 Main, Spiro and Company, Pinky D's
Photography: Pete Barrett
Photo Booth: Maine Tinker Photography
Rentals: Peak Event Services, Wallace Events
Arcade Games: Player One
Carnival Rides: Smokey's Greater Shows
DJ & Dance Floor: Pure Energy
Entertainment: Boston Circus Guild, Your Caricature Co.
Lighting: Moonlighting Productions
Jill and Ben got married overlooking the ocean this past weekend at the Samoset Resort in Rockport, Maine. With views of the golf course, bay, and the picturesque breakwater and lighthouse, Jill and Ben's wedding captured Maine's beauty.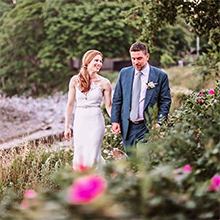 Photograph by Chris Bennett
Photograph by Chris Bennett
Photograph by Chris Bennett 
Photograph by Chris Bennett
Photograph by Chris Bennett
Congratulations Jill and Ben!
VENDORS:
Maine Wedding Planner: The Purple Orchid, Event Planning
Venue: Samoset Resort
Photographer: Chris Bennett
Catering:  Samoset Resort
Music: King of Hearts
Florals: Field Floral Studio
Cake: Sugar Tree Cakes
Whitney and Zach made their rustic-wedding dreams a reality this past weekend at Live Well Farm in Harpswell, Maine. A beautifully lit barn, outdoor tent, and close proximity to the ocean ticked all the boxes for a Maine summer wedding.
The charming attached farm house provided an intimate space for family and friends to get ready for the big day.
Photos by Lauryn Sophia.
Photos by Lauryn Sophia.
Antique bottles and personalized lobster-bibs provided memorable touches.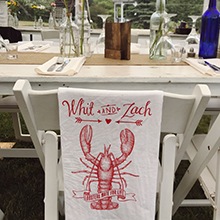 Congratulations Whitney and Zach!
Photos by Lauryn Sophia.
More to come!
VENDORS:
Maine Wedding Planner: The Purple Orchid, Event Planning
Venue: Live Well Farm
Photographer: Lauryn Sophia
Catering: Kate Hodgkins
Music: Pete Kilapatrick
Bouquets: Honeysuckle Way
Hair: Kate Cesana
Rentals: One Stop Rentals
Tent: Coastal Maine Canopies
Alex and Marion tied the knot on a gorgeous June day at French's Point in Stockton Springs. The couple, their friends and family enjoyed a lobster bake followed by fireworks on Friday night and a ceremony and reception overlooking the water on Saturday.
The rehearsal dinner highlighted all things Maine: lobster, nautical style, and a night down at the beach.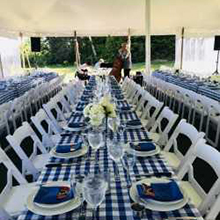 The ceremony on Saturday took place on a point overlooking the ocean and was followed by a tented dinner and party!
Congratulations to Alex and Marion!
More to come!
VENDORS:
Maine Wedding Planner: The Purple Orchid, Event Planning
Venue: French's Point
Rehearsal Dinner Catering: Bar Harbor Catering Co.
Reception Catering: Trillium Catering
Photography: Brendan Bullock Wedding Photography
Band: Dan Capaldi
Florist: One & Supp
Hair & Makeup: Vanessa Golden at Beauty Mark Salon
Rory and Steve got married at the very same place they met years ago: Ocean Gateway in Portland, Maine. The couple enjoyed perfect Maine weather in an outdoor ceremony and celebrated that evening in a venue with panoramic ocean views.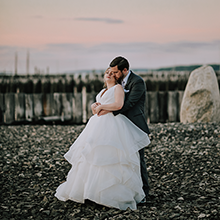 Photo by Erica Godino with Closer North.
Photo by Erica Godino with Closer North.
Toasts with props had the whole wedding in fits of laughter!
Photo by Erica Godino with Closer North.
Congratulations Rory and Steve!
VENDORS:
Maine Wedding Planner: The Purple Orchid, Event Planning
Venue: Ocean Gateway
Photographer: Closer North
Catering: the Bread and Butter Catering
DJ: Dave Dionne
Florist: Little River Flower Farm
Hair & Makeup: A New Leaf Salon