Many people who choose to get married in Maine have two things in mind for what they want: outdoor and ocean-side. While it may be easy to search for reception venues that have these qualities, it can be difficult to find off-site ceremony locations with gorgeous ocean views. We've done the hard work for you and come up with a list of ceremony sites that overlook the Atlantic – all within a 15-minute drive from Portland. We have even pulled blog posts from photographer friends and planners alike who have worked at these locations.
Cape Elizabeth
Fort William's Park and Portland Head Light – This park boasts one of the most photographed lighthouses in the world – Portland Head Light. With four locations for ceremonies scattered around the park, this beautiful spot has a lot to offer.
See contact information and the Reservation Application here.
Kettle Cove Beach – This inlet cove is nestled right next to the larger Crescent Beach State Park. With a grassy area that juts out over rocky slopes and quiet, wooded trails leading to additional beach areas, Kettle Cove is an ideal spot for intimate Maine weddings.
Check out the blog of one of our photographer friends, Leah Fisher, who shot an intimate ceremony at Kettle Cove beach.
Portland
Eastern Prom – Head over to the Eastern Prom to get gorgeous ocean-front views of passing schooners and the Casco Bay Islands, all while staying within city limits. Check out ceremony sites at Fort Allen Park and East End Beach. Another highlight is that these spots are just minutes from oceanside reception venues like Ocean Gateway.
South Portland
Spring Point Lighthouse – Just across the bridge from downtown Portland, Spring Point Light boasts beautiful views of Bug Lighthouse and access to sandy Willard Beach. Check out this blog post from another one of our photographer friends, Sarah Morrill, for inspiration.
We could write a blog post about all the beautiful outdoor spots to get married in Maine so long that it would turn into a novel. If you're looking to get married in the area, reach out to us so we can brainstorm!
Bridget and Ryan tied the knot overlooking Nubble Lighthouse in York, Maine in mid-August. Though it threatened to rain for most of the day, the stormy weather held off until nightfall and the couple, their family, and friends were able to enjoy a gorgeous outdoor ceremony followed by a tented reception.
Groom and groomsmen's personalities shining through.
Rose and gold details, accented by natural greenery, were showcased throughout.
Congratulations Bridget and Ryan!
More to come!
VENDORS:
Wedding Planner: Kristina Slocum of Purple Orchid Event Planning
Venue: Viewpoint Hotel
Photographer: Cait Bourgault Photography
Flowers: Little River Flower Farm
Rentals: Sperry Tent, Peak Events, A Family Affair, Heartwood Essentials
Cake:  Nothing Bakes Like a Parot
Makeup: Beauty Muse
Hair: Lindsay Griffen
Catering: Liberty Lane Catering
Videographer: Daniel Olivares
Band: Big City
Ceremony music: Opus Trio
Rory and Steve got married at the very same place they met years ago: Ocean Gateway in Portland, Maine. The couple enjoyed perfect Maine weather in an outdoor ceremony and celebrated that evening in a venue with panoramic ocean views.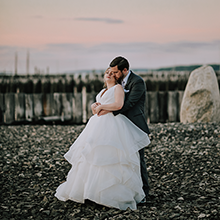 Photo by Erica Godino with Closer North.
Photo by Erica Godino with Closer North.
Toasts with props had the whole wedding in fits of laughter!
Photo by Erica Godino with Closer North.
Congratulations Rory and Steve!
VENDORS:
Maine Wedding Planner: The Purple Orchid, Event Planning
Venue: Ocean Gateway
Photographer: Closer North
Catering: the Bread and Butter Catering
DJ: Dave Dionne
Florist: Little River Flower Farm
Hair & Makeup: A New Leaf Salon
Maine has 3,478 miles of coastline with 3,166 off-shore islands <– the only two states the beat us out in coastline are Florida and Louisiana, that's pretty impressive. There's just something about the ocean that's so magical, a view that never gets old. Let's visit some coastal wedding venues that provide the quintessential Maine backdrop.
Samoset Resort
From their site: "Nestled on 230 oceanfront acres overlooking Penobscot Bay, the Samoset Resort offers a timeless setting for romantic Maine weddings."
photo cred: Steven Fairfield / see more of Lindsay & Kevin's wedding!
French's Point
From their site: "Set on a peninsula overlooking the Penobscot Bay in Maine, French's Point offers two year-round, oceanfront vacation rental homes available for weddings and milestone celebrations with beautifully landscaped grounds, a variety of gorgeous event spaces, and an incredible array of amenities affording our guests an unequivocal value with uncompromised privacy, in an unparalleled setting."

photo cred: Chris Bennett Photography / see more of Natayla & Christian's day!
Inn at Ocean's Edge
From their site: "The Inn's 15 acres of gardens, rolling lawns and woods, our unique infinity swimming pool, and dramatic ocean views, all come together to treat you and your wedding guests to a true Maine wedding."
photo cred: emilieinc.com
Cliff House
From their site: "Offering panoramic ocean views, exceptional culinary selections, and more, Cliff House resort is an unrivaled setting for New England weddings. Inspiring indoor and outdoor venues—each of which feature remarkable sightlines of the southern coast of Maine—present a picturesque backdrop for luxurious & unforgettable receptions alike"
photo cred: Kim Chapman Photography
When thinking about getting married in Maine- often, the coast of Maine is top of mind. And, why not, it is beautiful! Here are some of our favorite places in Maine to get married- with beautiful Maine ocean views.
Many of these we have had the pleasure of working at. Many of these, we are excited to say are part of our 2017 wedding line-up.
Hope you enjoy the view!
Asticou Inn
Atlantic Oceanside Hotel & Event Center
Black Point Inn
Camden Harbour Inn
Cape Arundel Inn & Resort
Colony Hotel
Dockside Guest Quarters
French's Point
Harborview at Jones Landing
Inn at Diamond Cove
Jonathan's Ogunquit
Joseph's By the Sea
Kennebunkport Inn
Marianmade Farm
Meadowmere Resort
Ocean Gateway
Point Lookout
Samoset Resort
Sebasco Harbor Resort
Sheepscot Harbour
The Bar Harbor Inn & Spa
The Bar Harbor Regency The Boathouse Waterfront Hotel
The Breakwater Inn and Spa
The Cliff House
The Inn By The Sea
The Inn On Peaks Island
The Landing at Pine Point
The Newagen Seaside Inn
The Nonantum Resort
The Spruce Point Inn
The Stage Neck Inn
The Tides Beach Club
Village by the Sea
Union Bluff Hotel
York Harbor Inn
York Harbor Reading Room
Thank you to our friend Rene Roy for the photos and Sara and Patrick Bette for being such a beautiful couple!
Maine doesn't get more picturesque than the gorgeous costal setting of Bailey Island – except when you add in lush floral arrangements of dutch hydrangea, queen anne's lace, sweet peas, peonies, mint, sage, zinnias from the florists personal gardens, a tent full of white and blue tables all uniquely decorated, a ceremony space overlooking the ocean, and the newly married Kelly and Dan. Welcome to the Wilds | William's wedding. read more…